One night for dinner I was peeling fruit for a salad when I came across a kiwi that was too bruised to use. I set it aside with the hopes of finding out about the beauty benefits of kiwi. After dinner I looked around a bit and found
THIS
recipe for a hair mask. So the next morning I mashed it up with some yogurt and applied it to my hair. I wrapped a warm towel around the whole icky mess and shuffled about in my bathrobe to do my morning chores. Since the flies were already following me around I decided that a generous smearing of honey on my kisser couldn't make things any worse. For the next 15 minutes I did housework and swatted away insects. The final result was a bit underwhelming. Maybe it was the type of yogurt I used... or maybe kiwi isn't really all that great. The next time I have a hankering to
smear dairy products in my hair
I think I'll go with a full fat yogurt.
I also tried pineapple skin as a all over
exfoliate
. While I was cutting up pineapple I made sure to leave a little fruit on the skin. Instead of taking it straight to the compost I put it in a tupper ware for my evening shower. I used the inside of the skin (the outside would be far to rough) like a loofah for my evening shower. The pineapple juice mixed with the exfoliation power of the rough inner skin made me feel nice and soft all over.
Another beauty related thing I did this week was make this basket full of homemade beauty products for a friends birthday. I made lavender linen spray, lavender body powder, an herbal massage oil, an oatmeal cookie bath, and I crocheted a small disc to clean and exfoliate the face. You can read more about the crochet project on my
Worth A Knit
blog... I'll be posting instructions for this easy project later today.
To make the oatmeal bath you simply take one part baking soda to two parts oatmeal and then season it as you like with vanilla extract and cinnamon. Place it all in the blender and blend until it resembles wheat flour. If you are giving it as a gift simply put it in a bag and tie it with a ribbon. If the lucky recipient happens to be you then just throw the whole thing in a warm bath and enjoy.
And now for something completely different...
While looking at books about natural beauty products I stumbled across an interesting natural hair removal method. It is similar to waxing except instead of smearing unknown chemicals on your delicate parts you use a mixture of sugar, vinegar and water that you cook into a sticky paste. You apply it to your body and much like waxing you pull.
It is called sugering and
HERE
is a tutorial for making your own natural "wax". What I found funny about the whole process is that when I looked at the ingredients (2 cups sugar, 1/4 cup water, 1/4 cup lemon juice... it looked a whole like the
basic recipe for taffy
(2 cups sugar, 1/2 cup water, 1 tablespoon vinegar).
Well May 23rd just happens to be National Taffy Day (I love meaningless food holidays)... so let's celebrate this Makeover Monday by giving the old fashioned taffy pull a whole new meaning!
I promise NOT to post my pictures... if you'll promise not to post yours.
Cheers,
Jenn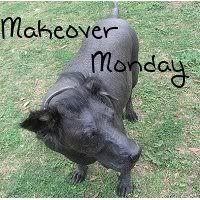 As always fell free to link up and don't forget to visit
The Zany Housewife
.