I had a fabulous Mother's Day weekend and part of the fun was a little bit of pampering.
Saturday we had an exciting day of geocaching and exploring the Texas hill country (find out more tomorrow). My day of fun left me in need of some serious relaxation, however, so that evening I mixed up a lemon rosemary hair rinse and a baking soda body scrub and rinsed off the weariness of the day. After that my hair felt clean and smelled delicious and my skin felt revitalized. After that chilling with the family and watching a movie was the perfect ending to a perfect day.

Lemon Rosemary Rinse
1 T. finely chopped rosemary
Juice of one lemon
Water
Heat herb in enough water to cover and bring to a boil. Simmer for 5 minutes. Cool and strain. Add to the juice of one lemon. Pour over freshly shampooed and conditioned hair. Rinse after a few minutes.
You can also use Chamomile (good for light hair) or parsley (excellent for a deep clean) instead of the rosemary.

Baking Soda Scrub
2 T. baking soda
2 T. ground rice (use coffee grinder)
1 t. grated lemon peel
Mix all ingredients and place in a container with a tight fitting lid. Due to the preserving nature of baking soda you can store this for a long time.


After the kids were in bed my husband gave me a pedicure. First he filled a tub with warm water and used a lemon grass/mint tea to infuse the water with a pleasant smell and soothing herbs.
After that he scrubbed my feet with the baking soda scrub I had mixed up earlier. All he did was add some olive oil to moisturize. It was pure heaven. I just sat back with a glass of wine, listened to some Bob Dylan on the stereo, and enjoyed the pampering.
After my feet had been soaked, scrubbed, and then massaged with cream he applied some polish and then finally the fun touch a neat design done with henna.
Here are my feet all done up the next day for our Mother's Day get together at the house.... complete with the cool dolphin toe ring that my kids and husband gave me for mother's day.
My mother's day henna tattoo was so popular that everyone got in on the fun.

Here is my mother getting her foot adorned with a dragon fly.

And the kids enjoyed a post party soak in the "pool" (it's really just a large storage bin that I fill with water) and showed off their new body art as well.
It was a terrific day and a wonderful way to spend Mother's Day weekend. What did you do for Mother's Day?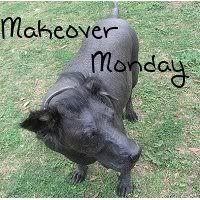 Post a comment, link up, and be sure to visit the Zany Housewife. The winner of last weeks drawing is Michelle at Evil City Woman. I will send the Monday Monster scrubbie her way.