Not only did I get to have a
fabulous pampering experience
with my little L on Thursday... but I had a wonderful time after school making pizza with my big girl. She loves pizza and she asked me to make her night to cook pizza night.

She started out by preparing all the ingredients. She cut up olives and helped me get the other ingredients that we'd be needing out on the table so that we were ready to construct the pizzas.
While she cut olives and gathered things I started on the crust. To make things simple I bought a crust mix.... but I think next time I'm going to try and make the crust from scratch. My daughter was sad that I didn't know how to toss the dough like you always see in the movies. Maybe next time I'll try that.



Next we spread on the sauce. My daughter went with a classic tomato sauce... and I decided to get fancy and mix pesto and tomato sauce on mine.




Next we spread on the cheese. We used a mix of grated mozzarella and Parmesan. By that time the oven was and hot and we needed to get those pizza's in soon so that we could start cleaning up our mess and setting the table for dinner.


As for toppings we decided to go vegetarian this time. My daughters LOVE black olives so they wanted to keep their pizza simple. Simplicity isn't part of my vocabulary, however, so for my pizza I used olives, garlic, onions, and fresh basil from my garden.

The pizza's came out lovely and they made the whole family smile... except for my little one who was in bed with a fever instead of enjoying dinner with the family. Thankfully we had leftovers and she had some for lunch the next day.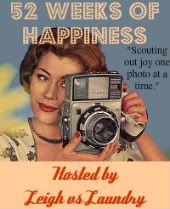 This will be the tenth post in my 52 weeks of happines project. Please stop by
Leigh vs. Laundry
and join the fun!
Another reason to be happy this morning...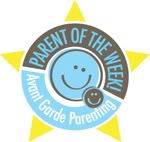 I have the pleasure of being Avant Garde Parenting's parent of the week. Thanks!