This weekend we went on a treasure hunt. We borrowed a GPS receiver, entered coordinates that we found at
Geocaching.com
and then off we went. It was a blast and now I have another piece of semi-expensive gear to add to my growing list of fun things that I want to buy. I learned about this fun outdoor activity at B.O.W. and I have a feeling that it is going to be kind of addictive, but anything that gets you outside and moving can't be that bad. We found a cache of wildflower seeds at the
San Marcos Nature Center
, and then we went off to the
San Marcos Greenbelt
for a little exploring.
Tracking device in hand, my husband points the way... Then off into the woods for an adventure. On the way we discovered a beautiful hiking trail that is nearby that we have never hiked before. It was a misty morning, but the girls didn't mind the walk. Especially knowing that there was treasure nearby.
My little one shows off her mad navigation skills! She has no idea what a GPSr does... but she sure enjoyed finding a toy box out in the woods.
Finding the cache is nice... but sometimes the things you find along the way are the real treasure. On this hike we found some real gems.
This mysterious fort was really cool. It was made entirely out of fallen trees. The kids really loved it and found inspiration for building their own backyard hideout.
We also discovered a roadrunner dashing through the trees at the end of our hike.
After a morning of treasure hunting we settled down to some breakfast tacos and a cup of coffee at a local cafe. "The kids" played with the toys they discovered on our walk and then we went home to get ready for our soccer game. We had so much fun that we managed to get a little treasure hunting in on Sunday as well... but that is a story for another day...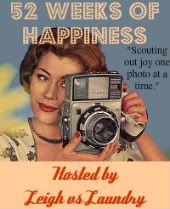 Week 4