Candy filled eggs
Chocolate bunnies and morning sugar highs.
Homemade bunnies and and
crocheted
eggs.
Finding eggs that the Easter bunny hides.
A
A seasoned pro who finds them all in no time.
Silly games played with family.
An unexpected find.
An Easter dinner of ham, mixed veggies, baked beans, salad and this lovely bread... and I didn't have to cook any of it. Now that is happiness!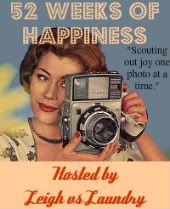 The first Makeover Monday yesterday went very well... I hope more people will stop by next week... and if you have a makeover post or a beauty secret please use the linking tool and share it!