The secret to a good hamburger, in my opinion, is simplicity. When I make a turkey burger I like to spice things up a bit, but when I'm in the mood for beef I don't like to mess around too much. I like to add flavor with condiments and toppings rather than adding things to the beef directly. Some people swear by adding minced onions or bread crumbs to their beef. To each his or her own. For me the perfect burger is simple.
.
1 lb ground beef (I like to use natural horomone free beef 85/15)
Salt and pepper
Buns
Whatever toppings you like (lettuce, tomatoes, pickles...this is where you can get creative use blue cheese or avocado... whatever you like)
Condiments (mustard, mayo, ketchup)
Shape meat into 3 adult size patties or 2 adult and 2 child size burgers. Sprinkle with salt and pepper (add a little worcestshire if you just can't let it be) and then grill the burgers. Serve with salad and sweet potato fries.
For more about sweet potato fries just go here...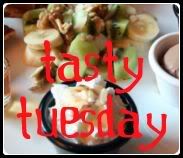 How do you like your hamburger? Leave a comment and tell me.