We just got back from our trip to the beach... and one of the coolest activities that we did cost less than a buck. We went to the grocery store and bought a bag of the cheapest white bread that we could find, found a secluded area, and just started throwing the bread in the air. Pretty soon it was like being cast into the middle of that famous Hitchcock movie... birds all around. The kids were in heaven. I had to bite back the urge to run screaming, but once I started snapping photos of the kids and caught a little of their excitement all my fears were gone.
The pictures below are from a couple of years ago. I love the look on my little ones face when she experienced seagulls for the first time. This time was no different.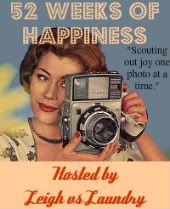 I also won this nifty award... How cool is that?