Tomorrow I am setting up a
geocache
and releasing two travel bugs. What is a travel bug you ask? You may even be asking what is a
geocache
... Well here is the story.
A few months ago I attended a Texas Parks and Wildlife class about
geocaching
. I was at my second BOW retreat (becoming and outdoors woman) and it was one of the offered classes. I had heard of
geocaching
, but when I walked into the classroom I had no idea what to expect... I had no idea that this would become a
new obsession
for me and my family.
What I found out was that
geocaching
is outdoor treasure hunting using a GPS device. It is done on a very large scale. People from all over the world hide containers, small and large, all over the place and then log the
coordinates
online for other people to find. You probably walk right by
geocaches
every day and have no idea that they are there.
A travel bug is an item, any item, that you attach a special tag to that allows you to track it's progress (using a tracking number). You place it in a
geocache
and send it out into world with a mission. The missions vary: some travel bugs simply want to travel as much as possible, some want to be photographed in exotic locations, some hope to increase awareness for a cause. There are countless reasons a person might send out one of these bugs. One of the travel bugs I'm releasing is a tiny measuring spoon.
This spoon was given to me by my mother when I went off to college. It is one of only two measuring spoons left from my first kitchen. It has been used to cook countless meals that have been enjoyed by many and I would like to pass the cooking bug along to as many people as possible. So the goal of this
little spoon
is to travel from place to place, inspiring people to cook and share a home cooked meal with their friends and family. I'm asking people to post a photo of the spoon with their home cooked meal... and send the recipe along to me. I would like to track it's travels here on my blog.
I'll have to see what happens and keep you posted.
The other travel bug I'm releasing is a crocheted finger puppet that I will be tracking on my other blog
Worth a Knit
. Stop by and read
it's story
if you are interested.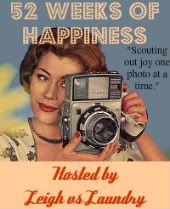 For the next few weeks my posts may be a bit
sporadic
. Summer is in high gear around here. This week we went camping at
Krause
Springs...As a result of our summer travels I missed this weeks 52 Weeks of Happiness and What I love Wednesday. Since
geocaching
falls under both of these
categories
I thought I'd share this post... It's a little late I know... but better late than never. I'll post photos of some of our summer adventures soon.