Our first natural deodorant trial has come to an end. This week my husband used apple cider vinegar in lieu of his normal deodorant. I would have to say that for the most part it was very successful, but if you are looking for something that works as well as a commercial products it's probably not for you.
The smell when you first apply the vinegar is really strong, but that fades fairly quickly. While we were on vacation at the beach my husband commented that he smelled like a sweaty pickle. That said, I never had one of those "oh my god get the hell away from me" moments... In fact, I never really noticed his smell at all. I noticed the smell of vinegar when he first applied it, but since I use vinegar as a cleaning product around the house I associate that smell with clean. I tried it out as well. We decided to go to a State park one morning as part of the Texas Geocache challenge so I decided to put vinegar to the ultimate test by using it while hiking in Texas in July. I certainly was sweaty when it was all said and done... and while I wasn't odorless I wasn't stinky either.
My final verdict on apple cider vinegar as a deodorant is that you wouldn't want to use it as your sole deodorant if you were going to a job interview in the heat of the summer, but it works pretty well for recreational use. My husband's verdict is that while he didn't lose any friends this week he didn't make any either.
Other beauty uses for apple cider vinegar:
1. You can mix it with water to make a rinse for you hair. You can either use 1 c. per quart of water as a final rinse to remove product build up... Or if you have dandruff apply 1 part vinegar with 3 parts water and apply to scalp before you shampoo. I've even read that you can use it to treat head lice.
2. Add a cup of it to your bath for sun burn relief... or just for a soothing bath for softer skin.
3. Apparently it also works to lighten age spots. Just apply a little undiluted vinegar to you skin and leave it on overnight.
4. Keep a little in your medicine cabinet for use as aftershave or to treat blemishes.
Do you have any beauty uses for vinegar... do you have a natural deodorant story to share? If so post a comment and let me know about it.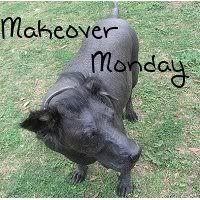 Post a comment, link up, and be sure to visit the
Zany Housewife
. I hope everyone has a safe and fun Fourth of July!